Tech Trek Camp Grace Hopper located at Stanford University
2020 Camp Cancelled


2020 Camp Dates: July 12-18, 2020
2020 Camp Update

As a result of ongoing and rising concerns regarding COVID-19 and the impact of directives from national, state and local leaders, AAUW California has cancelled the nine upcoming Tech Trek camps scheduled on seven college campuses in June and July of 2020.
AAUW's first priority is the health and welfare of Tech Trek's 7th grade campers, dedicated camp leaders, their staff and branch volunteers, and hosting campus communities.
This heartbreaking decision is in response to the advice and mandates of U.S.A. government leaders, health authorities and the World Health Organization (WHO) which has declared a global pandemic.
"Tech Trek turned out to be a life-changing experience, fostering my interest in computer programming, astronomy and 3D art, as well educating me about real-life experiences" said one camper at Camp Grace Hopper."  "My new friends only enriched my experience with fun and taught me how to work better in a team."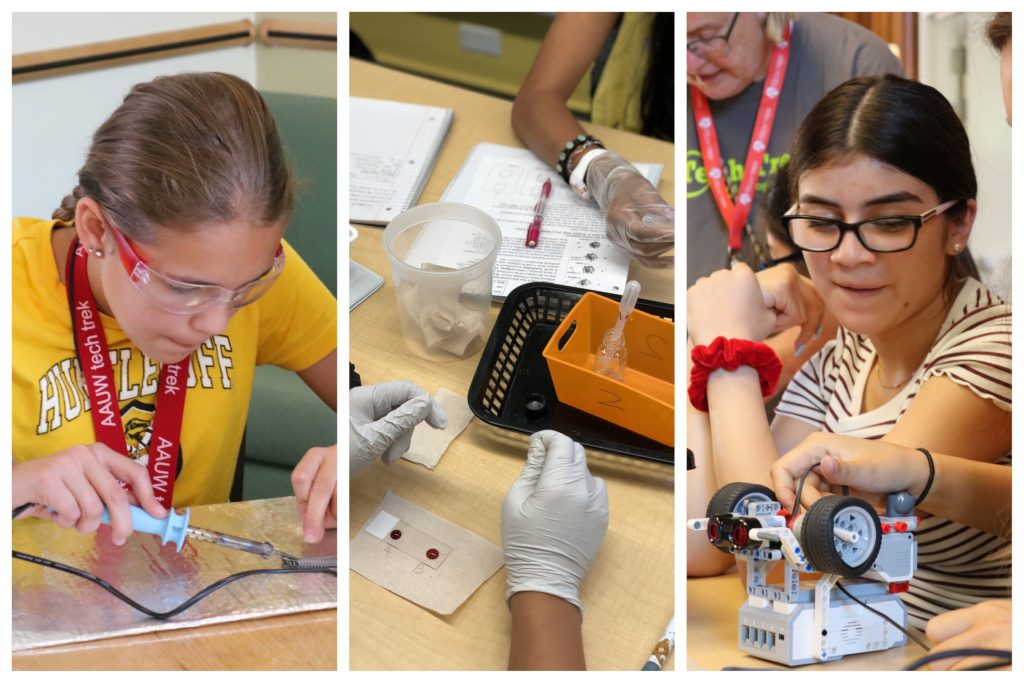 Tech Trek camps are one week, residential summer camps sponsored by the American Association of University Women focused on science, technology, engineering, and math (STEM). The camps are designed to identify middle school girls who have a strong interest in STEM and further develop their excitement, knowledge, and self-confidence in these important fields. Research shows that in middle school too many girls begin "stepping back" rather than embracing the rigorous challenge of STEM courses. The result is that too few girls are becoming prepared to take on the high-impact, high-paying jobs of our time. Tech Trek seeks to change this.
Tech Trek camps are held on college campuses located across the United States. Campers live in dormitories and eat in the student cafeterias, which helps girls visualize college in their future. The days at Tech Trek are busy and long with a full program of hands-on activities as well as lectures, field trips, and opportunities to learn about careers.
Girls must be nominated by their 7th grade middle school math or science teacher in order to be eligible to attend Tech Trek. After being nominated, interested girls must submit an application and possibly attend an in-person interview. All selected campers receive a full scholarship from the AAUW branch in their community. Girls from the San Francisco Bay Area and Monterey County attend either Tech Trek Camp Grace Hopper or Tech Trek Camp Marie Curie both of which are held on the campus of Stanford University.
An important note: For a variety of reasons, AAUW branches are not able to work with every local school to select campers. Parents cannot nominate their daughter or pay a fee for their daughter to attend. And girls must attend the camp at which their local AAUW branch has made reservations. For further information about your daughter's eligibility please contact the AAUW branch in your community.